Accounting Online Pre-Programme

Students all begin their Degree programmes with different levels of experience in financial accounting, whether it's learned in a classroom or on the job.
This online pre-programme is designed to bring everyone up to speed on the fundamentals so they're ready for our core Accounting course on day one.
The Aim
All MBA students take our core Accounting class during their first term. Our Pre-Programme curriculum is designed to ensure they understand the key concepts and principles of financial accounting before they begin. Some may test out of this pre-requisite and be able to waive the class. Others may try to waive but discover they need extra reinforcement before passing. Most students will follow the course from start to finish in a linear fashion. After completing all the modules, they'll be able to hit the ground running.
The LBS accounting faculty who collaborated on this project all share the same objective: to help students succeed. They helped develop this learning experiment to familiarise students with the terms and concepts they'll encounter in the core course. By developing or deepening their understanding, they'll be ready to move on to more complex content.
Just as important, students learn why accounting is so important. Videos throughout the online course illuminate the relevance of numbers in different business applications. By listening to real-world stories of accounting applied in the field, students see how numbers open doors to broader business knowledge.
---
The Approach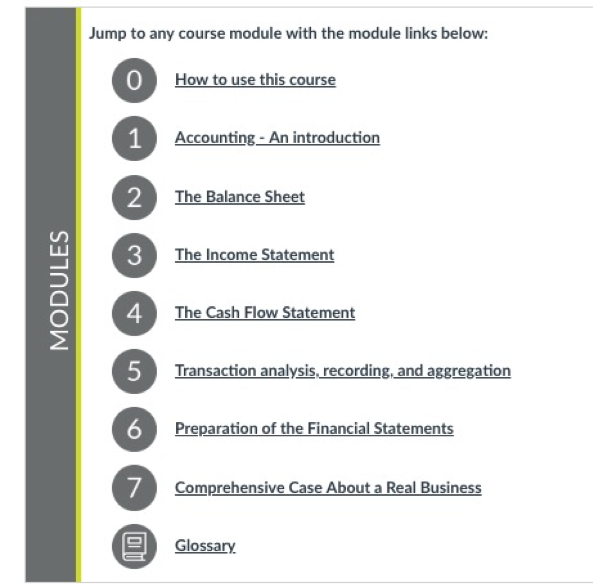 Updates & Enhancements
This year, we've updated the content, design, interactions, and videos to make the course more useful, interactive, and easier to navigate. There's an expanded glossary of relevant terms and a variety of different ways for students to check their understanding. We've also added a new assessment to allow students a waiver if they pass or extra reinforcement if they need it.
Format & Functionality
To maximise flexibility, these are designed as self-study modules, with no additional faculty or TA support required. The content is divided into chunks to cover the fundamental building blocks of the subject.
UX & Navigation
The user interface and instructions are clear and straightforward, enabling all students to navigate with ease — and to check for directions at any point. Buttons allow you to jump to any module or section at any time and numerous "help" features explain where to find specifically what you need.
Don't know where to start? Visit Module 0 to find out: a) How the course works and b) What you need to do to pass. Not sure where you left off the last time you logged in? Look for the green checkmarks to see which ones you've finished.
Content & How to Consume It
Content flows in a logical, linear pattern. However, users are able to jump back and forth to check specific topics and move around between modules and individual sections as they like. Clear objectives and expectations are set up front and throughout, so students know what to do and where to go next.
A welcome page and video add a personal touch and serve a useful purpose: Explaining precisely what's covered in the online course and why it's important to complete it. Why should you study these core concepts and terms? Because these are the fundamental building blocks of accounting — and your faculty member expects you'll have mastered them before beginning the core course!
Content covers topics such as:
What is accounting?
Who needs accounting skills and knowledge?
What are the main financial statements? How do we read and understand them?
How are business transactions processed for accounting purposes?
Why do we need accounting standards?
Students learn how to read and understand the main financial statements: the balance sheet, income statement, and statement of cash flows. They also gain a working knowledge of the accounting process that generates each type.
---
The Outcome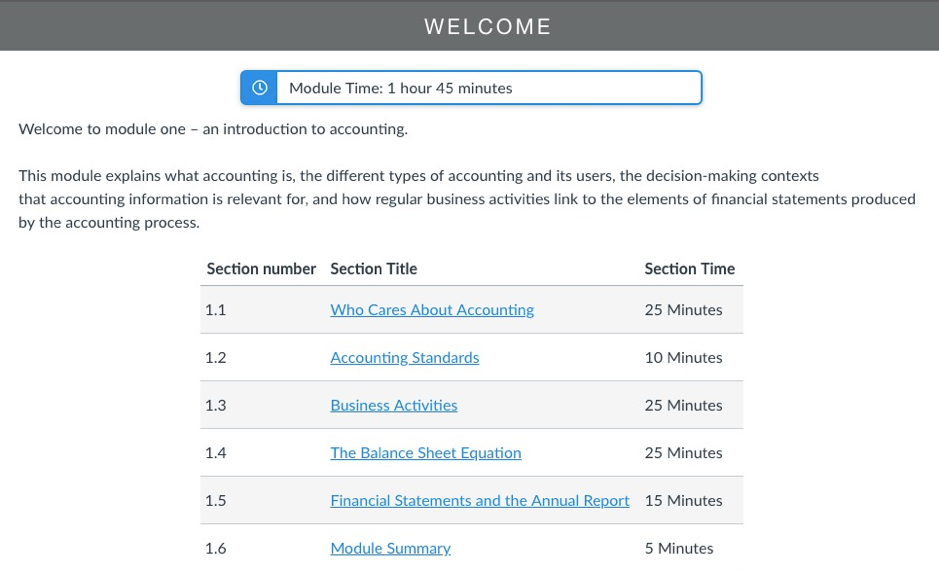 Hosted on Canvas, the online course consists of seven modules plus a final assessment. Each module is divided into numbered sections and contains a module quiz at the end for you to check what you've learned. Since the modules build on each other, we recommend students work through them in the set order. This pre-requisite knowledge will give them a sound understanding of basic concepts as well as practical skills.
Students who wish to waive will find that section right away:
Assessment to waive the course
Students with prior accounting experience can take this assessment to waive the course. They'll have one attempt to achieve a pass mark of 70% (21 out of 30 points). If they don't pass, we recommend they review the course and complete the final assessment. All students must pass one of these assessments before starting the core accounting course.
Each module includes:
Learning Objectives
Table of Contents (with Section number, title and time required)
Summary
Quiz
Activities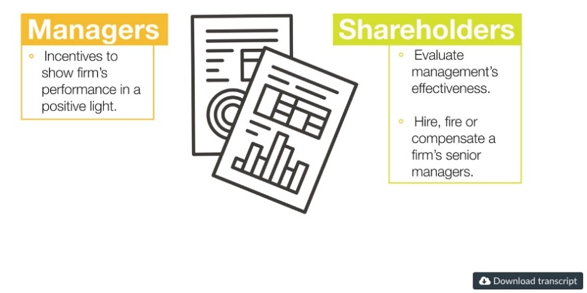 Each module contains engaging exercises designed to teach concepts and reinforce learning.
Two different types of exercises are embedded into the course pages: Checkpoint and Opinion. Checkpoint exercises help students monitor their progress and reflect on their learning. Opinion exercises, such as polls and word clouds, prompt them to share their thoughts with fellow students.
To mix things up, exercises come with different instructions and ways to answer (e.g., drag and drop, free text answers, numerical answers, select one or more). There are unlimited tries for all exercises, and they're reset every time you leave a page.
We've also included Points to Remember activities that prompt students to write their key thoughts and takeaways from each section to refer to later on. They can print or save these by simply pressing a button.
Glossary
A glossary customized for the course is especially useful. Here you'll find definitions for more than 50 industry terms, from Accounts Payable to Trade Receivables, and everything in between.
After the final module, students should feel able to:
prepare an income statement
prepare a statement of shareholders' equity
prepare a balance sheet
prepare a statement of cash flows (using the direct method)
make the link between the three main financial statements
appreciate which kinds of transactions are reflected on the main financial statements
The Impact
For faculty:
Since these are self-study modules, there's no additional faculty or TA support required.
By collaborating to develop the pre-programme curriculum, department faculty were able to customise the content to meet the pre-requisites of the core Accounting class.
Mastering this pre-programme ensures students are better prepared and eliminates the need for faculty to "teach to all levels" in the core class.
For students:
Gaining pre-requisite knowledge puts all students on a more equal footing at the start of class.
It also serves as a reinforcement and refresher for those who learned the basics a while back.
The online self-study format gives them flexibility to study the content when and where it's most convenient.
Students gain confidence in their ability to understand and communicate fundamental terms and concepts, so they're more likely to engage in discussions during the core course.
---
Photo by Scott Graham on Unsplash